Spring in My Step and on My Sleeve
Outfit Details
Erdem x H&M Dress (sold out, but fresh picks below) and Tights (sold out, similar here) | The Cambridge Satchel Company Bag | Boden Shoes (on sale, heeled version here) | Quay Sunglasses
As I write this, it's 36 degrees here in London (that's 2 degrees for you Celsius folks). It's cold, like really cold. But last weekend, I saw there was some sun in the forecast, so my husband and I took full advantage and went for my favorite walk through Notting Hill.
For the outing, I was inspired by the buds just starting to bloom and wore some spring on my sleeve. Now, the weather was still decidedly wintry, so I made sure to wear a long-sleeved dress paired with perfectly matching tights.
This is how I dress for those awkward months where it feels like winter, but looks like spring (or what others like to call 'transitional dressing'—which to me sounds like something you ought to put on a salad).
Covered in blooms from head to toe, my outfit does quite literally look like spring, but with minimal skin exposed, I'm still at least somewhat protected against the elements. With the dress being mostly black, it also helps to keep me warmer in those rare sunshine moments. We definitely stopped a few times just to soak up the sun.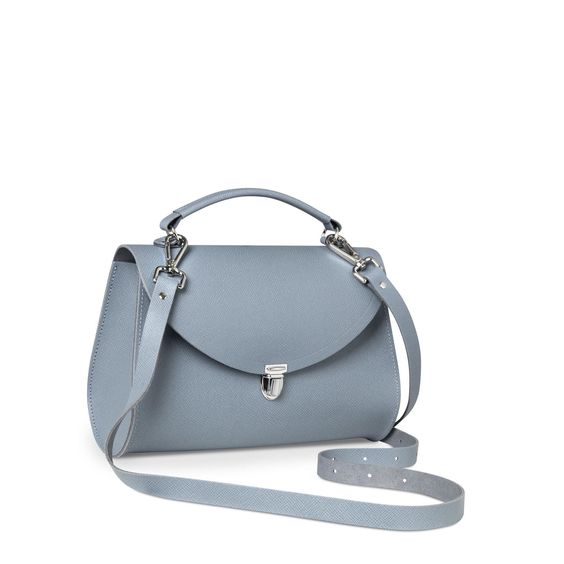 Featured Product: Poppy Bag
Deceptively roomy with a classic shape and easy push lock, this is my favorite design from The Cambridge Satchel Company. It's a style that won't go out of style anytime soon. Oh, and this French blue color is très dreamy, don't you think?
For this outing, I brought along my newest bag—the Poppy from The Cambridge Satchel Company.
There are so many things I love about this bag, but mostly how roomy it is. I'm someone who likes to be prepared for just about anything and that usually means bringing a tote bag along with my handbag to keep my extras—no need with this one. It fits all my necessities and then some, but you wouldn't know it with the sleek and elegant shape.
Another thing I love? The top handle keeps it looking ladylike, but you can also attach a strap to keep things hands-free, a must when commuting around London (or just wandering like we were doing).
We walked from Portobello Road in Notting Hill all the way down to Kensington High Street. This is one of my favorite walks to take because it takes you past the colorful townhomes of Notting Hill (like this blue one), through Holland Park and then finally past the elegant stucco-fronted homes in Kensington.
And this time of year, you also get to see the very first signs of spring—for me that's the blooming mimosa trees and the camellias just starting to bloom. Just puts a little spring in your step, doesn't it?
Until next time,
- B
Current H&M Favorites