Summer Makeup Staples
With the arrival of summer comes sunshine, warmer temperatures, days spent outside in the park, and a bit of a change to my makeup routine. I want my makeup to feel lighter, more natural, and able to withstand a commute on the hot and humid tube. I've gathered my go-to products for a quick summer makeup routine - here's what I'm currently using and loving:
I bought this on a whim while browsing the beauty aisles of Liberty London. I heard that Adele uses this brand (and of course, she's got the best eyeliner game in town), so I thought, why not give it a go? I'm glad I did - it's ridiculously easy to apply (even I can get a good cat-eye) and lasts all day, even in the heat!
| Benefit 'They're Real' Mascara |
This has been my go-to mascara for a really long time - and for good reason. It gives me thick, long lashes with only a few swipes of the wand. The end of the wand is also shaped really well for defining those hard-to-get lower lashes.
| blink browbar Brow Colour and Build |
I've been making the rounds to several brow bars (which are apparently now a thing), and blink has been one of the best. I'm really loving these two products for summer as the color adds precise definition while the build wand keeps my brow shape and color in place all day, no budging!
| bareMinerals Invisible Broze Powder Bronzer |
What's summer without a sun-kissed face? I add a touch of this light-as-air bronzer below my cheekbones for definition and then a very light brushing on my cheeks, nose, and chin (where a tan would naturally appear) for a sun-safe glow.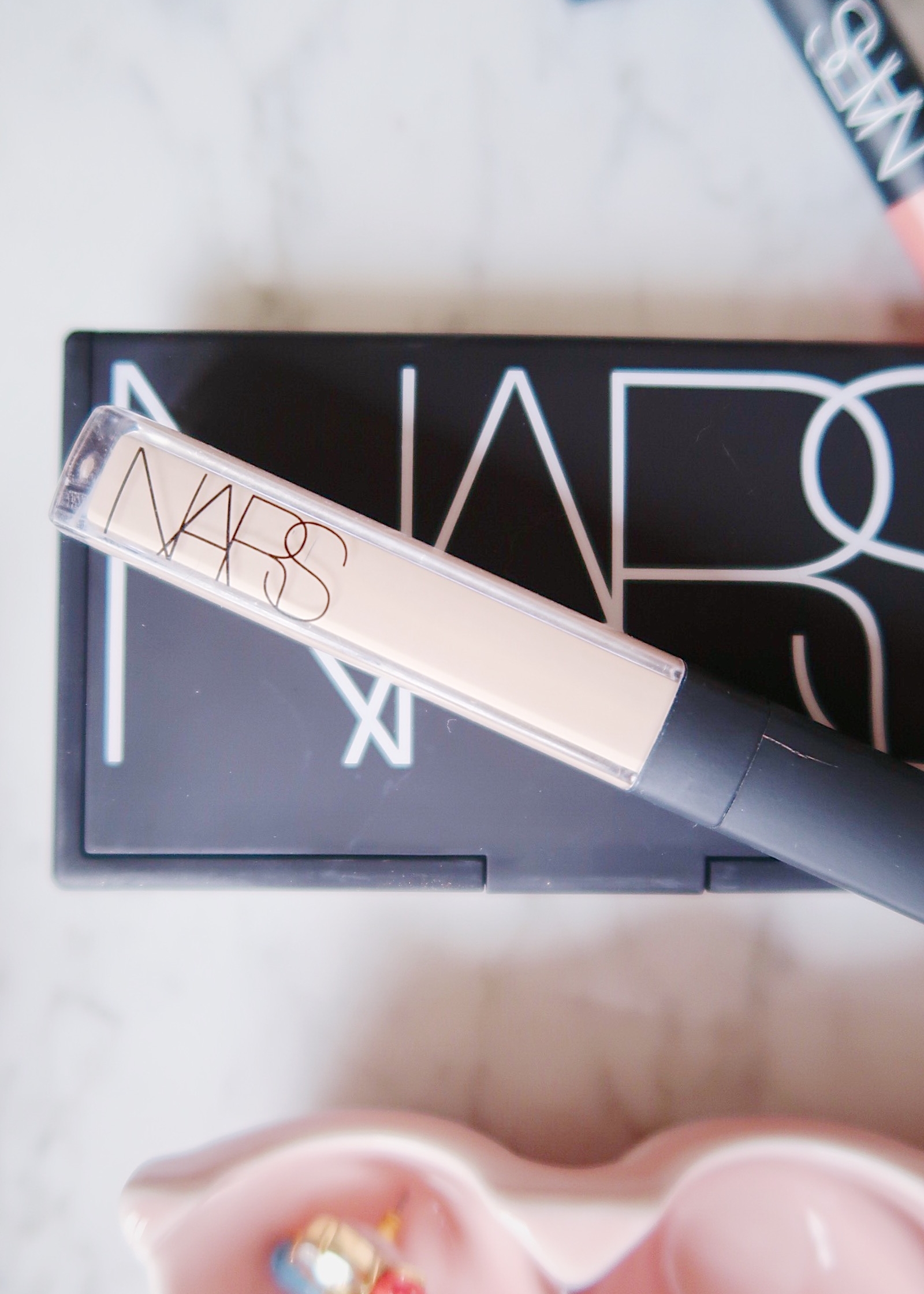 spotlight on my favorite makeup brand
Since discovering NARS last year, it's quickly become my go-to beauty brand. Their products are always worth the cost, last for ages, and are quick and easy to apply. For summer, I'm loving these ones in particular:
| Nars Creamy Concealer in Vanilla |
This is really a year-round product, but I love it in summer because I can apply it in the morning and the coverage lasts all day, even if I'm commuting on the Central Line in rush hour.
| Nars Velvet Shadow Stick in Siros |
This was a fairly recent buy, but I love it as an alternative to a powder eyeshadow (which tend to become creased in hot weather). This one glides on and stays put. The Siros color adds subtle shimmer to my lids and is perfect for an everyday look. I'll certainly be exploring and buying new colors soon!
| Nars Radiant Cream Compact Foundation in Mont Blanc |
Once summer rolls around, I trade my heavy liquid foundation for this cream one, which is a bit lighter and more breathable, but still provides me with medium coverage. Plus, the application takes seconds!
| Nars Velvet Matte Lip Pencil in Bolero |
I love coral colors in the warmer months. I tend to go for bright coral nail polish and more subtle peach colors for the lips, like this one from NARS.
A cult beauty product for good reason. I love this blush because it has a warmth to it that others don't - perfect for adding a little bit of sun-kissed color to the cheeks.
...and a couple of my current favorite summer extras.
I'm loving the candy floss color of these shades. I don't think I could get away with wearing these in winter, but for a summer day, they're just perfect. I'm also loving all the shades that are currently stocked in Madewell. I just have a weak spot for sunnies!
| J.Crew Earrings |
I snapped up these earrings in New York to wear for a recent Las Vegas trip (I went for some glitzy looks), but I'm finding that they add a bit of fun and sparkle to many of my everyday summer outfits. J.Crew's accessory game is always strong!
Until next time,
- B